Athol's Story
A bittersweet day of peace.
While the fighting had stopped with the armistice of November 1918, peace was not formally declared until the signing of the Treaty of Versailles in June 1919.
Peace celebrations were held throughout New Zealand in July 1919 – everywhere from the main centres and their surrounding suburbs to small towns and rural areas. Following advice from the government, most communities held their celebrations on Saturday 19th, Sunday 20th and Monday 21st. Most also followed the format originally announced by the government, which called for a Soldiers' Day, a Day of Thanksgiving and a Children's Day. Peace Day was a day of joy. Streets were lined with ribbons and people paraded, sang and danced through them. After years of loss, sadness and hardship, it was time for New Zealand to finally start healing.
But it was a bittersweet day for those who had lost a loved one, including those who knew Athol Hudson.
Athol was an extremely bright student at Waitaki Boys' High School. He was Dux, a champion sportsman and was loved by everyone that met him. At Victoria University in Wellington he won boxing, swimming and running awards.
He enlisted in the army at the outbreak of the war, and served in the expeditionary force that went to Samoa in late August 1915. Upon his return from Samoa, he was awarded a Rhodes Scholarship - New Zealand's most significant university award. In 1916 he arrived on the Western Front as an Intelligence Officer but was killed a few months later when attempting to cross enemy lines to secure information.
He didn't live to see Peace Day, the day on which time was spent celebrating peace but also remembering the men and women like Athol, whose stories ended too soon.
Upper Moutere Celebrations
Casualty Form of Athol Hudson
The Victoria University College Review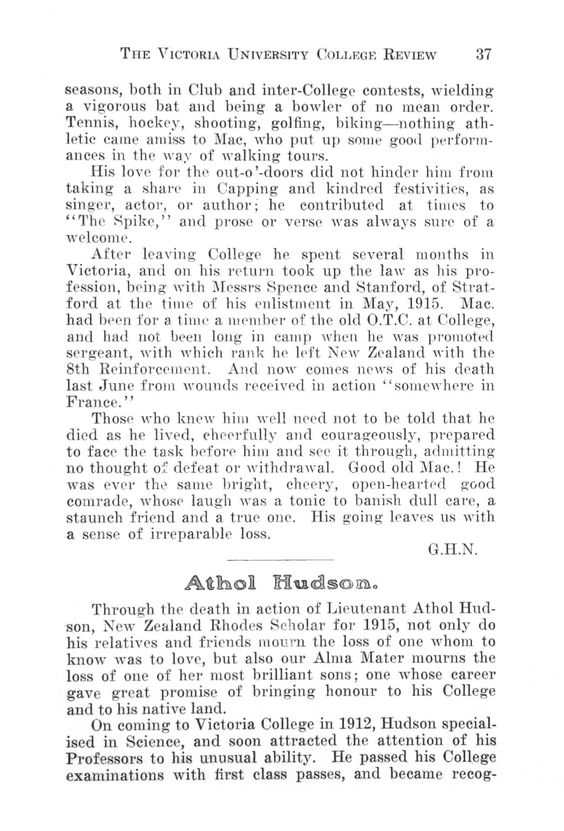 Peace Badge
Portrait of Athol Hudson
Research Support
You have been given the Peace Celebration Badge that Athol's family members would have worn. You are now tasked with discovering more of the story behind Athol Hudson. How much of his story can you piece together? The suggestions below will help you on your research journey. The How We Find It Fact Sheet will also be a helpful tool in helping you discover the pieces of Athol's puzzle.
FIND Athol'S RECORD OF SERVICE
You're in luck. Athol served in the New Zealand Army so his records can be found online at the Auckland War Memorial Museum Cenotaph. This is your most important search. Collect as much information as you can. Once you've found Athol's Serial Number move to Archway and search for his service documents there.
discover WHAT NELSON Did for the peace celEbrations.
New Zealand's official peace celebrations occurred over a series of days in July 1919. The government had called for a (Soldiers' Day), a day of thanksgiving as well as a Children's Day. This is the button that Athol's Mother wore for the Peace Day Celebrations in Nelson and Tuatapere where she lived. Use Digital NZ to find out what Nelson and Tasman Peace Celebrations looked like.
HOW DID ATHOL DIE?
Often soldiers felt compelled to write letters to the parents of their friends explaining how they died or where they were buried. These letters must have been hugely painful to write, and to read, but were comforting as they provided details that families often had no other way of knowing. Athol's mother received just such a letter from an old Nelson College and Waitaki school friend of Athol's, Cyril Rout,. She agreed to the letter 's publication in the Nelson Evening Mail. Use Papers Past and search for 'Athol Hudson' in the Nelson Evening Mail. Use cenotaph to find out what happened to Cyril.
Discover more parts of Athol's story.
ATHOL WAS A RHODES SCHOLAR. BUT what is a rhodes scholarship?
Established in 1903 under the will of Cecil Rhodes, the Rhodes is the oldest and perhaps the most prestigious international graduate scholarship programme in the world. Rhodes's vision in founding the Scholarship was to develop outstanding leaders who would be motivated to 'fight the world's fight' and to 'esteem the performance of public duties as their highest aim' as well as promoting international understanding and peace. Rhodes Scholars are funded to attend Oxford University. Use Papers Past and search 'Athol Hudson' to discover when Athol won his Rhodes Scholarship?
how did mrs hudson continue contributing to the war effort?
Mrs Hudson must have been devastated by her son's death. Her reported activity in the paper indicates that she wanted Athol's memory to live on. Papers Past reveals that many Waitakians, old boys of Waitaki Boys, who were also returned servicemen who had possibly fought alongside Athol, came to call at her Tuatapere home. One such Waitakian was Clutha McKenzie, Use Papers Past to search for 'Mrs Hudson' to analyse what donations and contributions Mrs Hudson made in her son's name.
ATHOL IS REMEMBERED AT WAITAKI BOYS HIGH SCHOOL
Athol Hudson attended Waitaki Boys High School. The headmaster there was the iconic John Milner. Like J P Firth at Wellington College, he encouraged hundreds of former students to enlist to go to war. At the conclusion of the war he raised funds for a huge 'Hall of Memories' as a war memorial for Old Boys who had both served and lost their lives. Find a picture of the Waitaki Boys High School Hall of Memories. Can you find out which member of the Royal Family opened it?
Help solve the Unsolved Mystery
what happened to athol's father?
Athol was the son of a Doctor James Hudson. His father was known for his "forthright and forceful personality, he did not suffer fools gladly, no matter what their social status. He was a figure of integrity and authority, esteemed for 'his real downright good heart and estimable qualities. An active appreciation of art, astronomy, geography, science and medicine linked him with gifted colleagues". Dr James Hudson was central to Nelson affairs but retired to Tuatapere, Southland. It was at Tuatapere that the lack of access of the community to medical care forced him to re-open his practice. He died shortly afterwards. Can you discover how he died?
Search Further
A Peace Celebration Badge is connected with the story of Athol Hudson who attended Nelson Boys' College and Waitaki Boys' High School. The original badge is held by Auckland War Memorial Museum - Tāmaki Paenga Hira #1992.326. This story is told with the permission of Angus Taylor, on behalf of the Hudson Family.
Find documents connected with the life of Athol Hudson here
Athol Hudson was awarded a Rhodes Scholarship.
The Walking with an Anzac Team found the first clue in Athol's story when they visited Nelson College. The scriptorium (funded by old boys) holds these special memories. Further research on the same platforms you have used today allowed us to discover Athol's Story.
Research starting points for Athol's Story.
Have you found a new piece to the Athol Hudson puzzle? Drop us a line below:
"Draping the gray stonework with multi-coloured ribbons."
Peace Day Decorations on Queen Street.