"I believe he can't be trusted"
George Bollinger's Story.
How do you prove your loyalty to a country you're already fighting for?
George Bollinger enlisted only nine days after war broke out in August 1914. He was proud to serve his country, but others were not so excited about his involvement.
Fundraising badges were made for specific battles or organisations and worn by families and friends at home, but not everyone was supportive of all the soldiers.
Taranaki born and raised, Bollinger's father was German. This made him a target for anti-German groups in New Zealand. Bollinger worked hard and climbed up the ranks, eventually being promoted to regimental sergeant major, but those who accused him of being pro-German were not happy.
Members of the Women's Anti-German League and a few anonymous members of parliament wrote hateful and prejudiced letters against him. Even more letters were published when Bollinger returned to New Zealand in 1916 to take up a training role at the Trentham army camp.
The army defended him against these rumours.The Minister of Defence described Bollinger as having demonstrated 'exceptional gallantry and faithful conduct … in the face of the enemy'. Bollinger, determined to prove his loyalty, offered to serve overseas again even though he didn't have to.
He was wounded in action in June 1917 and died two days later. His brother Herman would later die of wounds in March 1918 while also fighting for New Zealand. Eight German cousins fighting against the allies were also killed on the Western Front.
His name was left off the Roll of Honour outside the church in his hometown.
George Bollinger Portrait
Confidential
Dardanelles Souvenir Badge
George Bollinger in the trenches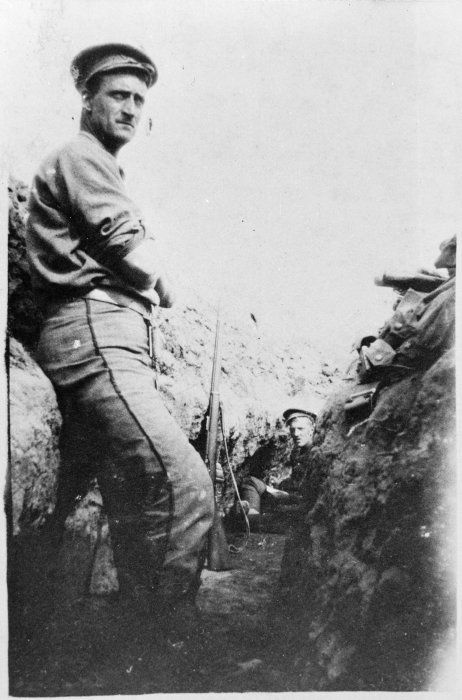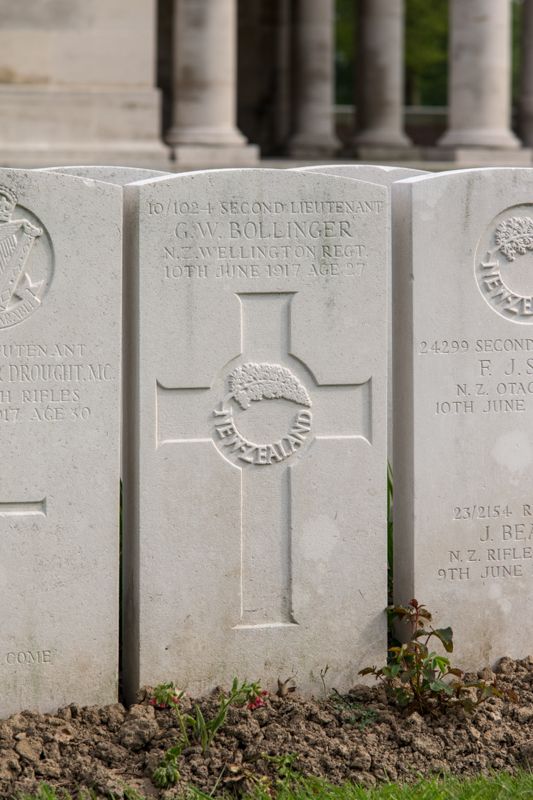 Research Support
You have been given a Dardanelles souvenir badge - sold as part of the national fundraising programme. You are now tasked with discovering more of the story behind George Bollinger. How much of his story can you piece together? The suggestions below will help you on your research journey. The How We Find It Fact Sheet will also be a helpful tool in helping you discover the pieces of George's puzzle.
FIND George'S RECORD OF SERVICE
You're in luck. George served in the New Zealand Army so his records can be found online at the Auckland War Memorial Museum Cenotaph. This is your most important search. Collect as much information as you can. Once you've found George's Serial Number move to Archway and search for his service documents there.
what happened at the dardanelles?
Find George's Casualty Register in his archway file. Where was the first place that he fought? Use NZ History to find out what happened there. Why would people like George's mother have worn a Dardanelles pin back in New Zealand? Search the Auckland War Memorial Museum Collection using the search terms 'fundraising badge Dardanelles' to see if you can find other examples of badges produced to commemorate NZ losses at the Dardanelles.
who was madam boufve?
Since the outbreak of war in August 1914 the actions of the German forces (and a good deal of Allied propaganda as reported in the press) resulted in a hardening of public attitudes towards Germans and people with German sounding names, even if they had lived in New Zealand for many years as responsible citizens. Find the letter in George's Archway file on Page 11 written from a citizen in New Plymouth to Madam Boufve. Who was she? Use Papers Past to understand more of her role in the Women's Anti-German League.
Discover pieces of George's puzzle
BOLLINGER CAME HOME TO NEW ZEALAND AFTER THE DARDANELLES BUT WHAT HAPPENED TO HIM?
In early 1916 George returned to New Zealand for officer training, becoming a second lieutenant. He took a posting as an instructor at the Trentham camp.
The haters wouldn't let up. In Taranaki, the Bollinger family had rocks thrown at their home, partly spurring their move to Khandallah, Wellington. MPs and the Women's Anti-German League started accusing George of being pro-German. The army again stood by him. To quieten the rumours, so his family claims, he once more offered his service overseas, although under no obligation to do so. In August 1916 he embarked and in November joined the 2nd Battalion of the Wellington Infantry Regiment in the field. On 8 June 1917 he was wounded in action during the Messines (Mesen) offensive, and died two days later.
Can you use CWGC to find where he is buried?
READ LETTERS WRITTEN ABOUT GEORGE
The reality of the war hit home in May of 1915 as the casualty lists from the campaign in the Dardanelles (which came to be known as Gallipoli) began appearing in the local newspapers, with ever increasing numbers of our troops reported killed, wounded or missing. In addition, by the middle of the month the news had spread around the world that a German U-boat had torpedoed the Cunard trans-Atlantic liner Lusitania, which quickly sank off the south coast of Ireland with the loss of 1,198 lives.
Search George's Archway file for letters written about him by concerned members of the public. Some of the letters are awful in what they say about George Bollinger. Read the letters and James Allen's response to understand more deeply what was going on.
HOW DID GEORGE'S OPINION OF THE WAR CHANGE ?
There is much written about George Bollinger. Watch his Great War Story here and conduct more research on Google to gather all you can about him. His diaries give us lots of insight into how his attitudes to the war changed and he obviously must have known and felt some of the things being said and written about him at home. What does your research tell you about how his attitudes changed?
Solve the Unsolved Mystery
WITH SO MUCH ANTI-GERMAN FEELING IN NEW PLYMOUTH - WHAT MADE NEW PLYMOUTH BOYS HIGH SCHOOL STAND UP FOR GEORGE?
Reading the letters that were constantly written about George to the Minister of Defence, James Allen our team noticed that all replies were always copied to the MP for Taranaki Henry Okey. The Okey name appears on the New Plymouth Boys High School Memorial Gates along with Bollinger's, Lepper's and V J B Hall's. The reality is that Okey's sons had been at school with George Bollinger.
It would have been standard protocol for Okey to be cc'ed on any letter from the Minister of Defence relating to someone from his electorate, but one can't help wondering if Mr Okey had a special sympathy for George Bollinger's situation. His sons had signed up alongside George and he would have read their letters home and to the Taranakian. Perhaps Mr Okey had special insight into George's character and that this in someway contributed to the consistent defence of George to all who wrote to complain about him.
Search Okey and Bollinger in Papers Past and in the Taranakians to see if you can find any evidence to support our theory.
Search Further
A Dardanelles' Souvenir Badge is connected with the story of George Wallace Bollinger who attended Omata School and New Plymouth Boys' High School. The original badge is held by Auckland War Memorial Museum - Tāmaki Paenga Hira - Tamaki Paenga Hira #1992.325. Despite best efforts, relatives of George were unable to be contacted.
Find documents connected with the life of George Bollinger here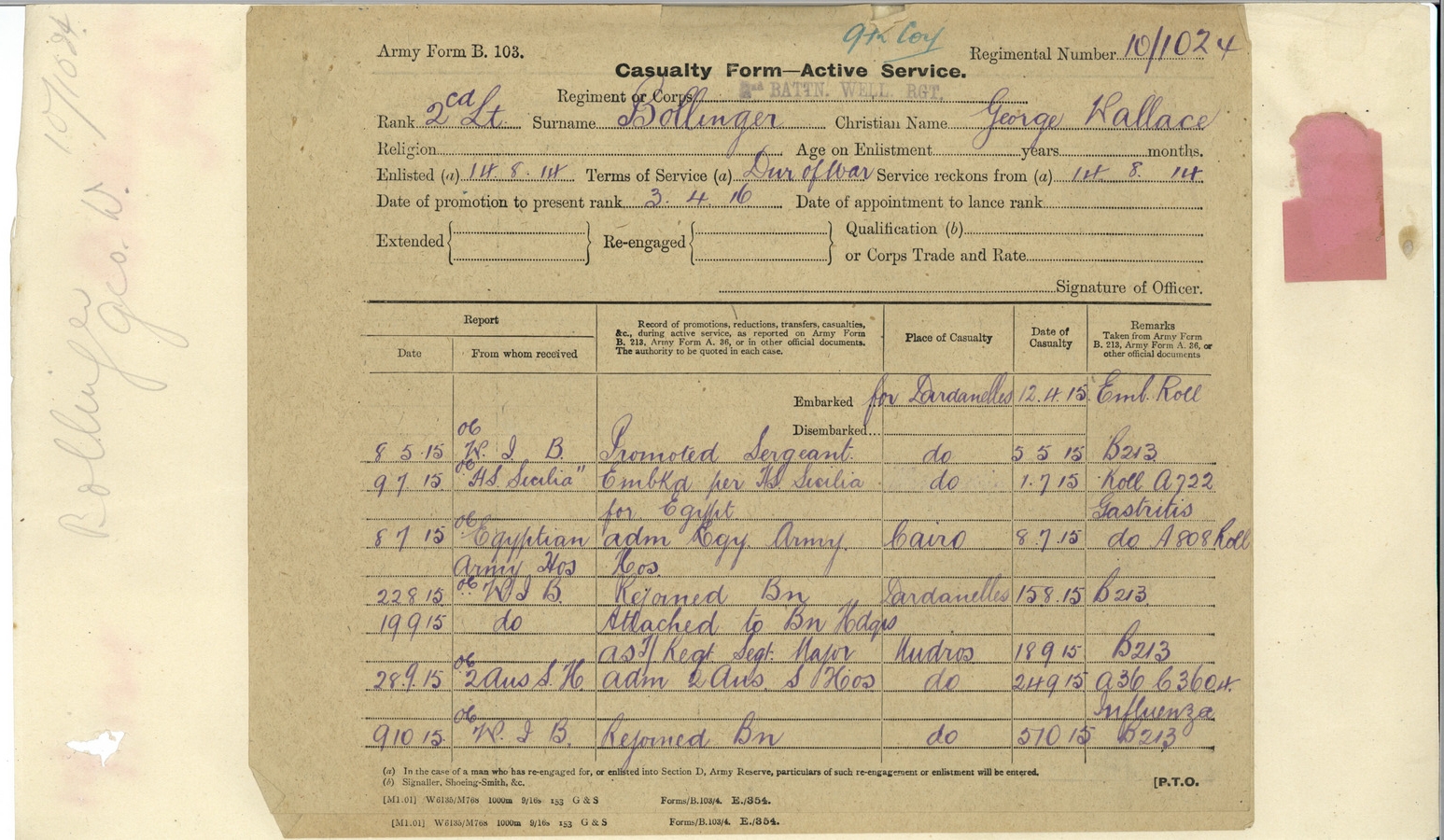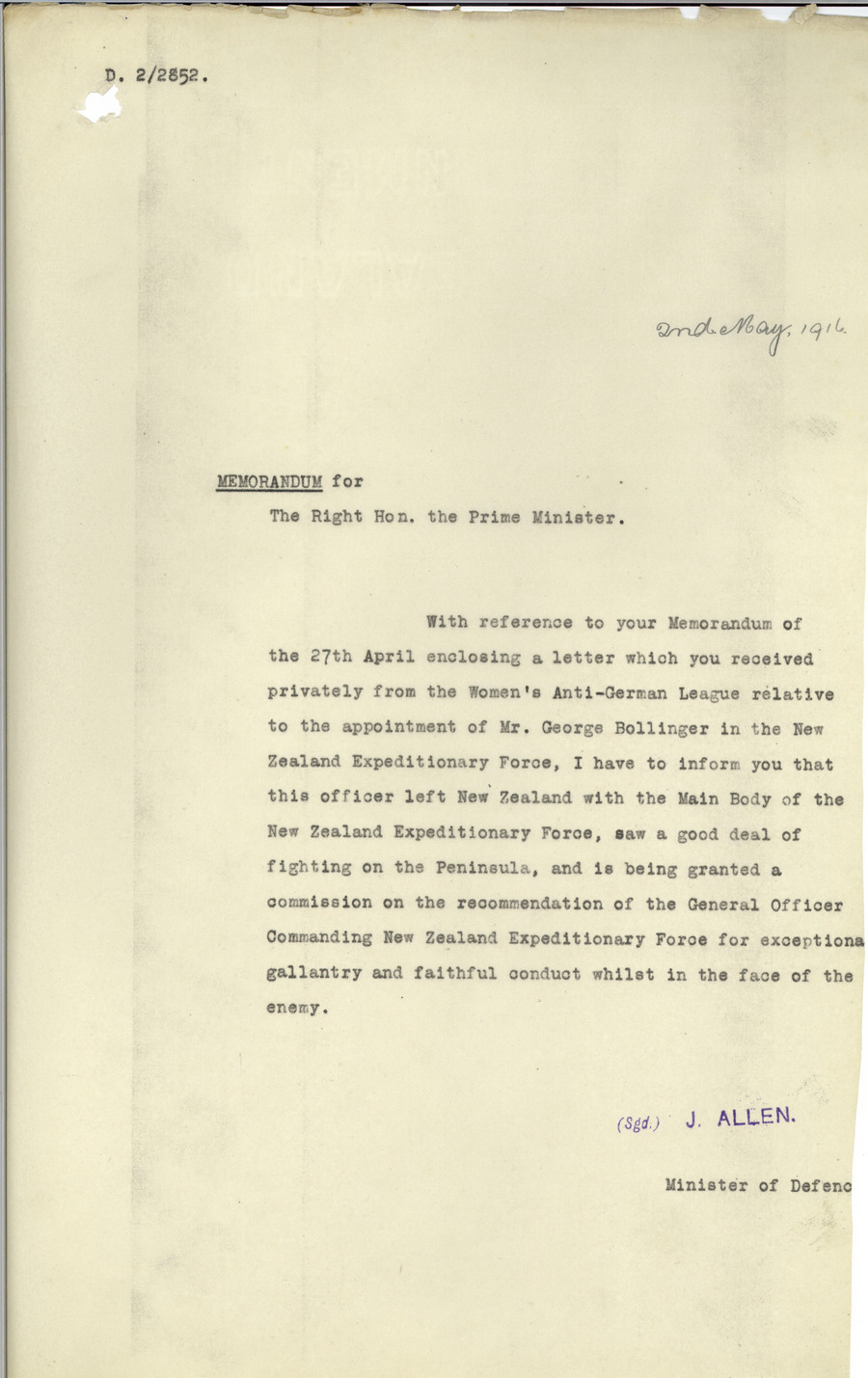 Missing names at the Omata War Memorial
New Plymouth Boy's High School
The Walking with an Anzac Team found the first clue in George's story when they visited New Plymouth High School. Further research on the same platforms you have used today allowed us to discover George's Story.
Research starting points for George's Story.
Have you found a new piece to the George Wallace Bollinger puzzle? Drop us a line below:
"A fine example of a soldier and a New Zealander."
James allen's defence of george bollinger