Harold's Story
companies helped in any way possible.
Hallenstein Bros. is a household name in New Zealand. Almost every mall has a Hallensteins shop, and thousands of people wear their clothes every day.
When war broke out it became an all hands on deck project. The army needed a vast range of goods and services. Hallenstein Bros. contributed to the war fund in many ways. They collected donations at their vacant shop, they held the positions open for any employees who had been selected to serve overseas, they donated money and they even made uniforms in their Dunedin factory.
Harold Hallenstein Fels wore one of those uniforms.
Harold was the son of Willi Fels - Hallenstein Bros. managing director at the time. He was working as a clerk at Hallenstein Bros. when he enlisted so it would have been very special for him to wear the uniform his family's company had been produced.
Maybe the reason Hallensteins were so keen to help out was because of Harold. Willi would've wanted to support his son in any way possible, even if that meant making the uniforms he wore to serve in the army.
A Hallensteins Bros. Uniform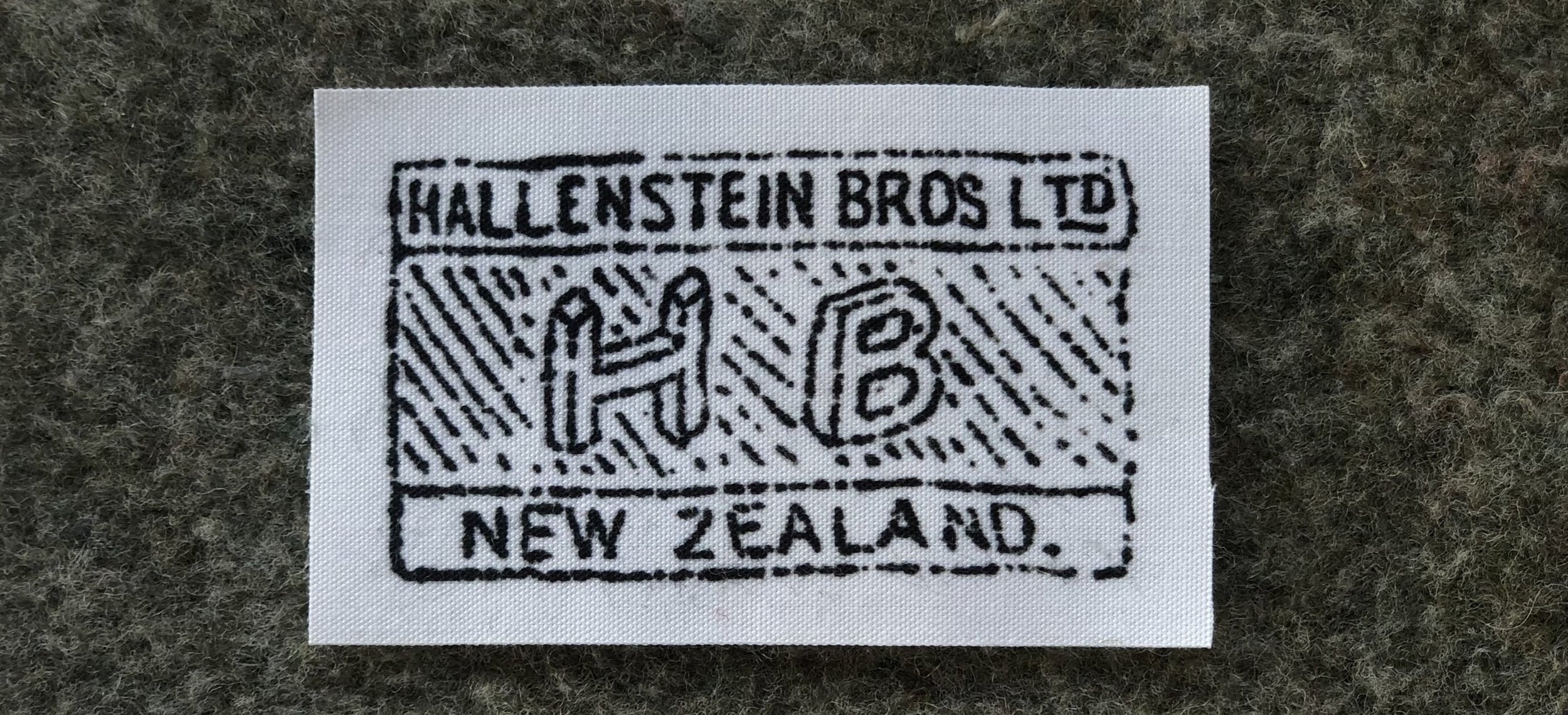 Gunner H Fels
Passchendaele Barrage Map
Hallenstein Brothers
Harold's casualty record
Research Support
You have been given a piece of Harold's uniform that he wore at the front. You are now tasked with discovering more of the story behind Harold Hallenstein Fels. How much of his story can you piece together? The suggestions below will help you on your research journey. The How We Find It Fact Sheet will also be a helpful tool in helping you discover the pieces of Harold's puzzle.
FIND HAROLD'S SOLDIER RECORDS
You're in luck. Harold served in the New Zealand Army so his records can be found online at the Auckland War Memorial Museum Cenotaph. This is your most important search. Collect as much information as you can. Once you've found Harold's Serial Number move to Archway and search for his service documents there.
what did a NZ soldier wear - what uniform
Suddenly New Zealand needed thousands of uniforms made very quickly. Many New Zealand companies were offered contracts to make uniforms - Bing, Harris & Co, Sargood & Son, Hannahs and Hallenstein Bros - The New Zealand Clothing Company. What can you find out about these companies? Use google image to find pictures of New Zealand soldiers in these uniforms.
find a 1914 hallensteins ad in the paper
Use Papers Past to search for 'Hallenstein'. Find a Hallentein Bros. advertisement for each year of the war. How do the company advertisements change between 1914 and 1918? How large was the donation that Hallenstein Bros made in the first week of war being announced? Use the Reserve Bank Inflation Calculator to understand the size of that donation in 2018 dollars.
Discover more pieces of Harold's story
harold's mother was a hallenstein and his father was a fels
Who were the Hallenstein and Fels families and why were are they such an important part of New Zealand's history? Watch the third part of the Old Money Documentary on NZ On Screen to understand how influential this family was. Harold's father was Willi Fels. Use the Dictionary of New Zealand Biography to discover the story behind Willi Fels and Bendix Hallenstein (Harold's maternal grandfather).
HAROLD IS REMEMBERED AT WAITAKI BOYS HIGH SCHOOL
Many Hallenstein sons attended Waitaki Boys High School. The headmaster there was the iconic John Milner. Like J P Firth at Wellington College, Milner encouraged hundreds of former students (he called them Waitakians) to enlist to go to war. At the conclusion of the war he raised funds for a huge 'Hall of Memories' to commemorate Old Boys who had both served and lost their lives in the war. Find a picture of the Waitaki Boys High School Hall of Memories. Can you find out which member of the Royal Family opened it?
why was the loyalty of the owners of hallensteins, the dresden (Bristol) piano company and dic questioned?
Harold's father Willi Fels and his mother's Hallenstein family were both key shareholders in The Dresden Piano Company. In 1915 The Dresden Piano Company changed their name to the Bristol Piano Company in an effort to prove their British purity and loyalty. Dresden is a German city. The issue was serious - four months later a mob smashed the windows of the Wanganui Store. Willi Fels was forced to make a statement about the loyalty of the firm and mentioned that Harold was serving at the front. Other German or German-sounding names were changed during the war or shortly afterwards: Brunswick Street in South Dunedin became Loyalty Street, and members of the Hallenstein family altered their name to Halsted.
Use Papers Past to trace the development of this story. Search for 'Hallenstein' after August 1914 and remove advertisements from your search to make the story easier to follow.
Solve the Unsolvable Mysery
find willi fels pet name for his grandson charles brasch?
Harold's father, Willi Fels, was devastated at the loss of his only son. Use google and a search for 'Willi Fels + Charles Brasch' to discover what he began calling his grandson Charles Brasch after Harold's death.
Search Further
acknowledgements
A Hallenstein Bros. Uniform is connected with the story of Harold Hallenstein Fels who attended Arthur Street School and Waitaki Boy's High School. The original uniform is held by Otago Boys' High School Museum. Despite best efforts relatives of Harold were unable to be contacted.
Find documents connected with the life of Harold Hallenstein Fels here
Harold Hallenstein Fels's job prior to enlisting was at the Dunedin family factory.
Waitaki Boy's High School
The Walking with an Anzac Team found the first clue in Harold's story when they visited Waitaki Boy's High School. The school built a spectacular Hall of Memories, which was opened in 1927 by HRH The Duke of York (Later King George VI). It commemorates the war service of Waitakians in World Wars I and II. Further research on the same platforms you have used today allowed us to discover Harold's Story.
Research starting points for Harold's story.
Have you found a new piece to the Harold Hallenstein Fels puzzle? Drop us a line below:
" Hallenstein Bros. Ltd.
New Zeaand."
Writing on the Hallenstein Bros. Uniform label