A portrait to remember me by.
Middleton Beckett's Story
would you lie to do the one thing you'd always wanted?
Middleton Beckett always wanted to be a soldier, and he wasn't going to take no for an answer, even if that meant lying about his age.
These photographs were taken at William Berry's studio on Cuba St in Wellington. Berry took photos of nearly eighty soldiers before they left for war, but the negatives were lost for almost 100 years before the 'Berry Boys' collection was rediscovered.
Soldiers often had professional photos taken with their family before they embarked. For some it was the last picture of them taken, and they became treasured mementos for families and friends.
Middleton Beckett's were a bit different, because he was only eighteen when they were taken.
The minimum age for a soldier to serve overseas was twenty.
Beckett tried to enlist as soon as the war broke out, but he was rejected for being too young. When he moved to Christchurch he saw it as a chance to try again - this time he lied on his forms and said he was two years older than he actually was.
He was only nineteen when he died of wounds.
Portrait of Middleton Beckett
Bank of N.S.W. Napier
Nominal Roll
Portrait Trio
Portrait of Middleton and his sister
Research Support
You have been given Middleton's portraits that were taken prior to his departure for the front. You are now tasked with discovering more of the story behind Middleton Beckett. How much of his story can you piece together? The suggestions below will help you on your research journey. The How We Find It Fact Sheet will also be a helpful tool in helping you discover the pieces of Middleton's puzzle.
FIND middleton'S RECORD OF SERVICE
You're in luck. Middleton served in the New Zealand Army so his records can be found online at the Auckland War Memorial Museum Cenotaph. This is your most important search. Collect as much information as you can. Once you've found Middleton's Serial Number move to Archway and search for his service documents there.
where is middleton buried?
Middleton's parents, Mr & Mrs W Beckett, would have had a special card delivered to them with a photo of Middleton's grave and the exact location should they ever be able to visit. Use Middleton's Service Number to search for the location of Middleton's grave. Download the Cemetery Plan and use it in conjunction with Google Maps to find his final resting place.
WHO IS THE WOMAN IN THE PHOTO WITH MIDDLETON?
Middleton had this photo taken with his sister Helen. She trained as a nurse and from 1930 worked for the Plunket Society as a district nurse in the Wellington suburbs of Island Bay, Berhampore and Newtown. What happened to Helen? Use Papers Past and search for the words 'Plunket' and 'Beckett' in the same article to discover the answer.
Uncover more pieces of Middleton's story.
Can you find out Middleton's actual birthday?
Middleton was desperate to go to war. He volunteered for service at the outbreak of war, but was rejected as being too young. In May 1915 he tried again, falsifying his age by two years, and was enlisted in the newly formed Rifle Brigade. Find Middleton's birthdate on Births, Deaths and Marriages and compare it with the one that he claims is his on his attestation (Page 15 of his Archway File)
THERE IS LOTS OF EVIDENCE OF MIDDLETON'S FATHER'S COMMUNITY INVOLVEMENT IN THE TAKAPAU AREA
Mr W M Beckett was one of the first Pakeha settlers in the Hawkes Bay area and he felt the weight of responsibility to contribute to the communities of each of the towns (Ormondville, Norsewood and Takapau) in which he lived. Middleton's father was a great starter of societies, donator of trophies and member of boards. Use Papers Past and search for Middleton's father (W.M Middleton). Order the list by date and make a list of the societies, clubs and events that Middleton is involved in over time.
the berry boys - who were they and why were they special?
Between 1914 and 1918, dozens of photographs were taken of young men before their departure overseas by the photographer William Berry, who had established his photography business in 1897. The Berry studio established a reputation as the city's finest portrait photographs. In the 1990s, many of these photographs were found in a cupboard by one of the tenants of 147 Cuba Street, Wellington, the former premises of Berry & Co. Middleton's portrait was one of those found all those years later. Watch The Berry Boys and understand how the story unfolded from there.
Help solve the Unsolved Mystery
how did the island bay community honour nurse helen beckett?
The Island Bay community when they lost their beloved Nurse Helen decided to erect a memorial in her honour . Use Papers Past and search for 'Nurse Beckett Memorial'. What was the memorial the community eventually erected in her honour. Can you find evidence that the Memorial was ever unveiled?
Search Further
A soldier's official portrait is connected with the story of Middleton Beckett who attended Takapau District School and Wanganui Collegiate School. The original photos are held by Museum of New Zealand - Te Papa Tongarewa - William Berry; B.045034 - 36. This story is told with the permission of Sue Ferguson, on behalf of the Beckett Family.
Find documents connected with the life of Middleton Beckett here
Middleton Beckett had his photos taken at the Berry Studios.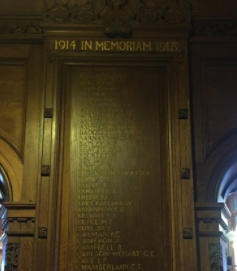 Wanganui Collegiate School
The Walking with an Anzac Team found the first clue in Middleton's story when they visited Wanganui Collegiate School. We were lucky enough to see Middleton collection of photos held in the archives. Further research on the same platforms you have used today allowed us to discover Middleton's Story.
Research starting points for Middleton's Story.
Have you found a new piece to the Middleton Beckett puzzle? Drop us a line below:
"He was considered rather young for the work. "
Wanganui Collegiate In Memorium