Owen Mead's Story
How can you guess when a war will finish?
When the war broke out men were encouraged to enlist for the 'great adventure' it would be. They thought the fighting would be over by Christmas and it would be a chance to see the world and serve their Empire.
They were wrong.
The attestation all soldiers filled out said that they were enlisting to serve for the duration of the war, but no one thought it would go on for so long, or that so many would be killed.
They couldn't have imagined the trauma and heartbreak that everyone would still feel for years after.
When Marlborough High School (now Marlborough Boys' College) had their Roll of Honour made in 1915, they left the end date of the war blank, unsure of when, or even if, the rest of the soldiers would be home.
Owen Mead was wounded during combat and struck down with sickness, but he managed to survive the war. Many New Zealand Rolls of Honour and memorials typically included only the names of those who died. Schools however frequently included all those old boys who had served or were wounded, in addition to those who died as they sought to honour all of those students.
Marlborough Boy's College
Bourail Memorial panels
Borough of Blenheim
Owen Mead
Casualty Record
Research Support
You have been given the unfinished Roll of Honour from Marlborough Boy's College where Owen's name is listed. You are now tasked with discovering more of the story behind Owen Herbert Mead. How much of his story can you piece together? The suggestions below will help you on your research journey. The How We Find It Fact Sheet will also be a helpful tool in helping you discover the pieces of Owen's puzzle.
FIND owen'S RECORD OF SERVICE
You're in luck. Owen served in the New Zealand Army and so his records will be able to be found online at the Auckland War Memorial Museum Cenotaph. This is your most important search. Collect as much information as you can. Once you've found Owen's Serial Number move to Archway and search for his service documents there.
FIND owen'S GRAVE
Owen's wife, Barbara would have had a special card delivered to her with a photo of Owen's grave and the exact location should she ever be able to visit. Use Owen's Service Number to search for the location of Owen's grave. What year was Owen buried? What significant event had occurred?
news of owen
The most common form of finding out information about loved ones was to scour the newspapers for updates. People read the paper daily, searching for news of their family and friends. Use Papers Past to find updates about Owen. See if you can find reference to a telegram from the Addington Camp.
Uncover more pieces of Owen's story
why is owen on the roll of honour?
Owen is fortunate to return from WW1. However almost 20 years after his return he enlists again, this time in WWII. Why then is his name is listed on the unfinished Roll of Honour at Marlborough Boy's College? Use NZ History to find out how and why communities chose to remember their fallen. Your local war memorial says much about the beliefs and values of New Zealanders in the years after the Great War. Uncover the meaning behind the memorial where you live. Can you find names of soldiers who attended your school? Read how the Marlborough Boy's College archives have chosen to tell their stories.
plucky leadership
At just 26 years old Owen Mead had seen more than the average man. This article from Jan 31, 1918 details his previous 10 years and tell of his skill in shooting, his leadership ability and bravery. When did Owen gain leadership of the 13th North Canterbury Battalion? While leading the battalion he was "in the thick of the Battle of the Somme". Use Ngatapuwae to take the guided tour of the Somme. Listen to the story of Alexander Aitken who fought at the same campaign. Create your own podcast of the life of Owen.
Search Further
A Roll of Honour with no end-date is connected with the story of Owen Herbert Mead who attended Canvastown School and Marlborough Boys' College. The original Roll of Honour is held by Marlborough Boys' College Archive. It is this project's understanding that Owen has no surviving relatives.
Find documents connected with the life of Owen Mead here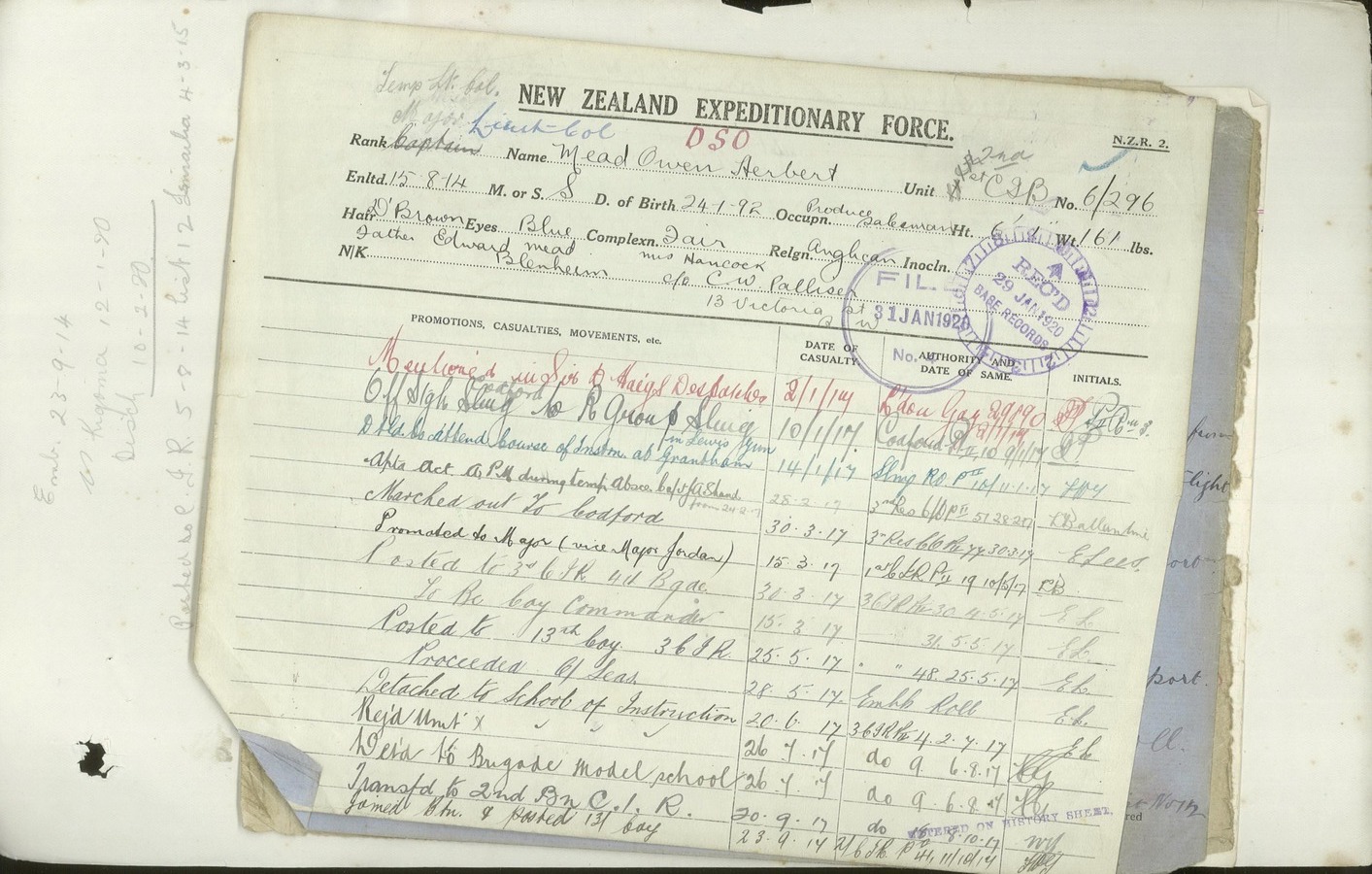 Owen Mead was lost at sea while in transit from Fiji to Tonga
Marlborough Boy's & College Canvastown School
The Walking with an Anzac Team found the first clue in Owen's story when they visited Marlborough Boy's College and saw his name on the unfinished Roll of Honour. We then visited Canvastown School and saw his name on their Honours Board. Further research on the same platforms you have used today allowed us to discover Owen's Story.
Research starting points for Owen's Story.
Have you found a new piece to the Owen MEad puzzle? Drop us a line below:
"Over by Christmas."
Common phrase used when the first world war first broke out