Daisy Platt-Mills and the Paisley Family's Story
A mother sending her sons to war.
There were a number of exceptional women who worked behind the scenes during the war.
When the war broke out, Lady Liverpool, the wife of the Governor, Lord Liverpool, created a fund to support the war effort and encouraged women and children to help in any way possible.
Dr. Daisy Platt-Mills was one of the only female doctors of the time. She had a special interest in women's and children's welfare. When the war broke out she became the first woman medical officer to the Public Service Commission, taking special responsibility for female staff.
Many of these women were also mothers.
Dr. Daisy thought that mothers who'd sent sons to fight should wear a token, so she came up with the Mothers of Empire badge. A small silver badge to bond these women together and represent the sacrifice they'd made. Lady Liverpool gifted these badges to mothers like Agnes Paisley.
Agnes Paisley sent three of her sons to war.
Imagine the heartbreak, saying goodbye to the boys you'd raised, not knowing if you'd see them again. Agnes wore her badge with pride, connecting herself to all the women who felt the same sadness she did.
Andrew, Alexander and Harold Paisley all enlisted early. They were strong, young farmers from Otago, eager to serve. They were Agnes's sons.
None of them returned home.
Andrew Kerr Paisley Headstone
Portrait of Alexander Paisley
Alexander Paisley Memorial
A Mothers of Empire Badge
Harold William Paisley Headstone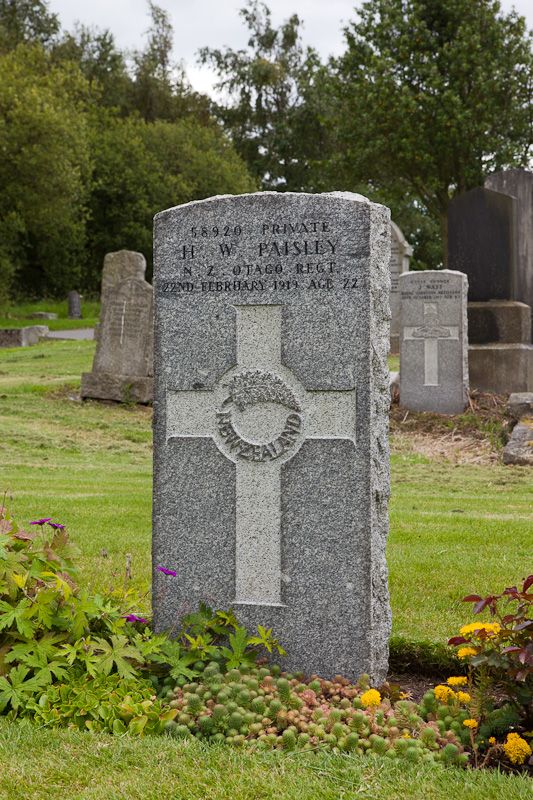 Research Support
You have been given a Mothers of the Empire badge - given to Agnes Paisley to wear with pride. You are now tasked with discovering more of the story behind the three Paisley brothers. How much of their story can you piece together? The suggestions below will help you on your research journey. The How We Find It Fact Sheet will also be a helpful tool in helping you discover the pieces of the Paisley Brother's puzzle.
FIND the brother's RECORDs OF SERVICE
You're in luck. Andrew, Harold and Alexander all served in the New Zealand Army so their records can be found online at the Auckland War Memorial Museum Cenotaph. This is your most important search. Collect as much information as you can. Once you've found the Serial Number move to Archway and search for his service documents there.
who were the paisleys?
There were many Paisleys in the North East Valley area. This article with Agnes Paisley receiving her Mothers of Empire Badge gives us clues about the Family. Archway gives us names; Papers Past and Google give us school awards and memorial notices. Can you create a family tree of the Paisley family? How many of them can you connect? What happened to them all? Did they survive the war?
find examples of these badges being awarded
The NZ Women's National Reserve presented badges to wives and mothers of service men late in the First World War. The Mothers of the Empire badges were silver with 2 fern fronds on the outside. On top was a crown and at the base a shield with the letters 'NZ'. In the centre were the letters SS (for Soldiers and Sailors) and the words 'Mothers of the Empire'. Use Papers Past to find examples of Mothers receiving these badges from Lady Liverpool.
Discover more parts of this badge's story
what was the upper junction school war memorial?
The Paisley brothers are remembered on two school memorials. The North East Valley School Memorial carries their names on a Roll of Honour topped by a statue of a soldier. Students walk underneath their names every day on their way to school. The Paisleys also attended Upper Junction School which has since closed. In what was the playground of the school, seventeen native beech trees were planted to remember ex-pupils of the school who 'died in the First World War. A plaque was placed at the bottom of each tree with the name of the soldier.
Although the area is now somewhat overgrown, all seventeen plaques have survived. All three Paisleys have a tree. Can you find the trees on Google Maps? What do you think should happen to the trees now that the school is closed? Who is responsible for them?
HOW IS lady liverpool PART OF THIS STORY?
People often feel that the First World War is a story about men. Lady Liverpool was a huge icon and advocate for women between 1914-1918. Watch Lady Liverpool's Great War Story to understand how influential she was. Two days after Britain declared war on Germany in August 1914, Lady Liverpool's appeal to the women of New Zealand was published in many newspapers. Lady Liverpool sought assistance in providing comforts and 'necessaries' for serving soldiers of the 'citizen army', and suggested that a network of women's committees be established to achieve her goal. Her influence extended much further than just supplying knitting. Use Papers Past to discover how she is connected to the Mothers of Empire Badge story.
Solve the Unsolved Mystery
why did daisy platt receive a mothers of empire badge when she had no sons serving in ww1?
This badge could have belonged to Agnes Paisley or hundreds of other women who stood up to receive their Mothers of Empire badges towards the end of the First World War. Instead this badge actually belonged to a woman called Daisy Platt-Mills. She was a remarkable woman who did many interesting and brave things. What was Daisy's role in the First World War?
She had no sons old enough to serve in the First World War. Why would she have received a Mothers of Empire Badge which was reserved for those who had sons killed or serving?
Search Further
A Mothers of Empire Badge is connected with the story of Alexander G Paisley, Andrew Kerr Paisley, Harold William Paisley, Agnes Paisley, Daisy Platt-Mills who attended Upper Junction School and North East Valley School. The original pin is held by Auckland War Memorial Museum - Tāmaki Paenga Hira #2015.x.123, h157.03. It is this project's understanding that the Paisley Family has no surviving relatives.
Find documents connected with the Paisley Brothers here
All of the Paisley Brothers attended Upper Junction School.
The Walking with an Anzac Team found the first clue in the Paisley Brother's story when they visited North East Valley School. The brothers attended the former Upper Junction School in Dunedin, were 17 native Beech trees are planted to remember the fallen. Further research on the same platforms you have used today allowed us to discover the brother's stories.
Research starting points for the Paisley Brother's Story.
HAVE YOU FOUND A NEW PIECE TO THE Paisley Brothers PUZZLE? DROP US A LINE BELOW:
"Mothers of Empire low at thy side are kneeling, watching with thee, all broken-hearted pleading."
The "sacred scroll of honour" - Evening star, april 25, 1916.